Kitchen and Bathroom Cabinets
Cabinets are an important part of the overall blueprint of your home. They bring everything together and tie in design. Cabinets have seen some evolution over the past few years and new styles have emerged. Carpet One Floor & Home in Roxboro is more than just flooring; we are also your local kitchen and bathroom design center. Cabinets are more than a kitchen accessory, they provide storage options to help keep your life more organized, and to tuck away household items you do not need to see every day.
Our featured cabinet brands are Kraftmaid and AristoKraft.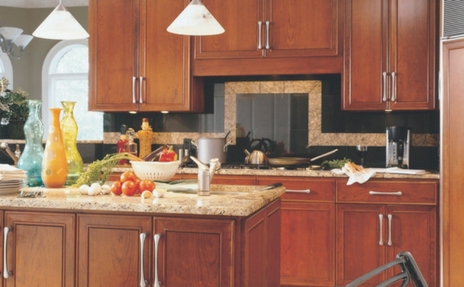 Types of Cabinets
Base cabinets are strong and sturdy, providing a base for heavy countertops, or used to create the perfect kitchen island or window seating. In a bathroom, base cabinets provide the foundation for a vanity or can be used for storage and organization.
Wall cabinets, sometimes called upper cabinets, refer to cabinets that are hung on a wall, as opposed to resting on the floor. A backbone for remodeling with cabinetry, they add beauty and functionality to the kitchen, bathroom, or laundry room.
Tall cabinets, also known as pantries or utility cabinets, create generous storage and a dramatic vertical look in a space. Typical tall cabinets will range in height from 84" to 96" as one unit.
Cabinet Trends
Cabinets follow trends like every other home product, and there is a rising movement to streamline design for a simple and minimalistic look. However, there are bolder options that have begun to spring up. To design the perfect kitchen, you'll want to choose something that reflects your personal style but also incorporates popular trends.
Color customization is a popular cabinet trend as homeowners look to differentiate their home. Color is an effective way to build character and personality. Customized colors are beginning to be favored over natural options. Neutral colors are currently big favorites with tones like grey, yellow and soft greens but don't count out the darker color pallet. Black, navy, and emerald green has the high-end allure that is desired by many.
Transitional style cabinets are a mainstay for most designs. You can have the contemporary elements without losing sight of traditional design. Transitional styling is effortless and you do not have to put too much thought into it. Now you can have a kitchen or bathroom style that is comfortable but interesting.